Dear Congregational Family,
 
1.      Confirmation:  This past Sunday was Confirmation Sunday.  I am so proud of our Confirmands.  They have a deep love for the Lord.  It has been an additional joy to see them love and care for each other throughout the year.  Please continue to pray for them and encourage them in their spiritual journey in the years to come.  We need to more intentionally be the "Family of God" to one another. 
(see confirmation picture below)
 
2.      Discipleship:  This past Sunday was also Pentecost Sunday in which we celebrate the giving of the Holy Spirit and the birth of the Church.  Along with that is the command of Jesus to "Go and make disciples."  This is of immense importance today, as we live in a day and age when people do not want to be "disciples" but rather desire to merely be "fair-weather followers."  The difference is those who have wholeheartedly committed their lives to Jesus; as opposed to those who simply want to follow from a safe distance and enjoy some benefits while not being committed to Christ, nor completely living for Christ.  Are you a disciple?
 
3.      Early Church Discipleship:  The early church had a pattern of "discipleship making" and it was a process of these segments:  1. Believing. 2. Belonging. 3. Behaving.  It is time for the present church to recover the importance of those simple steps!  I will address these three aspects of Discipleship more completely in the next three weeks.  
God bless you as we continue,
 
​              "Growing Together in our Faith as the Family of God."
                                             Pastor Carlson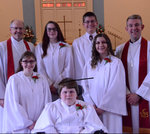 /?php get_sidebar(); ?>